Nature is the most exciting, obscure and splendid thing in the cosmos. Trees are one of the ways to see the nature. Olive is one of them and belongs to the Mediterranean Basin. Olive has various uses but olive oil is the exemplary benefit for the society. It is not only useful in cosmetics, pharmaceuticals, and soaps but also as a fuel for traditional oil lamps. The most common use is in cooking. Olive oil recipes are versatile in nature. Now, if you are looking for some olive oil recipes then keep on reading this article.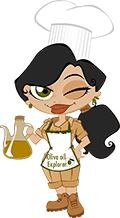 is one of the delicious vegetable cum olive oil recipe dishes. The vegetable olive oil recipe is ambrosial in food word. It takes around 45 minutes to make this dish enough for four persons. Let us starts this olive oil recipe with the ingredients. What you need is 4 eggplants, 2 onions finely chopped, a pinch of nutmeg, 100 grams (half cup) Gaea Cretan Sauce, salt, freshly ground pepper, 2 tbsp. rosemary finely chopped and ¼ cup extra virgin olive oil.
It's time to learn the procedure of this olive oil recipe. First of all finely dice the washed eggplants then sauté onions in a medium size sauce-pot. Continue sautéing while adding the eggplants. Next is to add tomato, nutmeg, salt and pepper and cook over high heat until eggplants are tender and liquid is absorbed. Sauce comes next to mix and cook over low heat for 5 minutes. Finally do the seasoning and sprinkle rosemary over eggplants. I hope you like this olive oil recipe. Enjoy like an epicure with your eggplants and onions with Cretan sauce.
If you have taste for meats and poultry then Lamb Chops Calabrese is a perfect dish for you among various olive oil recipes. For lamb chops Calabrese-olive oil recipe for 4 persons, you can quickly finish the job in 30 minutes. What you require to make lamb chops Calabrese is half cup extra virgin olive oil, 750 gram lamb chops, 6 tomatoes, 100 gram green olives, Parsley, 1 onion, 1 green pepper, 1 yellow pepper, and some salt & pepper. Its time to learn how to cook delicious lamb chops Calabrese! The very first step is to heat olive oil in a saucepan. Add chopped onion with parsley, peppers, peeled-sliced tomatoes, olives, and some salt & pepper and cook for 15 minutes. Sauté in another pan with oil and then pass the chops to pan with the vegetables. Make the taste suitable with salt and pepper. Cook for 5 minutes. Nestle and please with your appetizing Lamb Chops Calabrese.
After learning vegetable and meat dishes, let's enjoy some delicious dessert olive oil recipe. Chocolate Chantilly is sapid dessert with the simplest ingredients. If you are a chocolate fan then get ready to note down the ingredients of yummy olive oil recipe-Chocolate Chantilly: 2 tablespoon extra virgin oil with 200 grams 70% chocolate, chopped ¾ cup water fleur de sel.
In order to prepare the Chocolate Chantilly, take a small heavy-bottom pot and fill it with chocolate and water. Put the pot over medium-low heat and stir the mixture till it gets smooth. Transfer chocolate mixture to a high-sided metal bowl. Put the bowl in a larger bowl filled with ice and water. Next beat the chocolate mixture for 5 minutes, till it gets thick and glossy (you can use electric beater for this). This olive oil recipe provides you the texture of butter cream icing. Third step is to immediately scoop chocolate mixture into quenelles using 2 large soup spoons and transfer Chocolate Chantilly on a parchment-lined baking sheet. Refrigerate according to the need. Mizzle some Bitter Orange olive oil (Biolea Nerantzi) over it and a pinch of fleur de sel for the perfect chocolate orange taste.
In the end, if you are starving after reading scrumptious olive oil recipes then go and enjoy eggplants and onions with Cretan sauce, Lamb chops Calabrese and rejoices with mouthwatering olive oil recipe, Chocolate Chantilly.