Cornicabra olive oil has bitter pungent taste and the color is greenish gold. From Ciudad and Toledo, this olive oil is mainly produced and distributed all over the Spain. Cornicabra olive oil is extracted from special horn shaped olives, which are goat horn shaped. Oil taken from the Cornicabra can be used in bean salad or warm potato indirectly. Cornicabra oil is delicious enough to enjoy when eating other dishes too. Green vegetables, braised vegetables, escabeches, chicken or sautéed fish will be tasty to eat with Cornicabra oil. Castilla La Mancha is well known in Spain for Cornicabra Olive for the taste of the olive oil.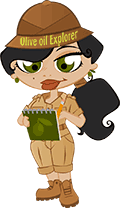 In Spain, different types of olive trees are available and Cornicabra olive tree is one of the well adapted species. Some name of Cornicabra olive oil are Melgarejo Delicatesen, Fuenroble, Castillo de Canena, etc.  Cornicabra olive tree is open shape, vigorous, mid-high, top dense and can live on dry grounds. Though Cornicabra olive tree can line on dry ground, Cornicabra olive oil is available in plenty in Cornicabra olives. In frost and drought, Cornicabra olive tree can live without any problem. The leaf of Cornicabra olive tree is green color and the back side of the leaf is grayish-green. When the olive tree is small in size, at the primary level, production is slow. But at the middle age of the trees, production variety becomes high. After ripening, Cornicabra oil remains stable over time.
Cornicabra olive trees are strong, late blooming, middle ripening and deep rooting. As the roots go deep of earth, they remain resistant from uprooting in storms. Fruits of Cornicabra olive tree have round base, asymmetrical and long. Cornicabra olive oil is extracted from the horn shape olives. Most of the Cornicabra olive trees are found in lighter soil, which is very much helpful for growing olive tree. The irrigation process is also important to get the best quality Cornicabra olive oil from the fruits.
Cornicabra olive oil contains high amount of antioxidants. But for pure and best quality Cornicabra olive oil, we must wait to get the processed olive oil from mills with great care. This olive oil has excellent quality and characteristics and its color can be intense green to golden yellow. Olive oil is like aromatic oil and fruity, but tastes spicy as well as bitter. Where, normal frying oil is not stable and finishes soon. But, olive oil will decrease the cost of frying food items. Sauces, dressings and salads will get completely new taste with this olive oil.
Spain is versed with various Spanish products including sherry, wine, special hum and of curse Spanish olive oil. Spanish dinner, lunch or breakfast cannot be imagined without olive oil item. When families get together, they use olive oil as fundamental food item. Half of the world's olive oil production (50%) takes place in Spain. More than 260 varieties of olive are cultivated there to get olive oil. Cornicabra olive oil is one of the most favorite olive oil categories. The average Cornicabra olive oil yield is 20%. Spaniards choose the type of olive oil based on their need.