Hojiblanca olive oil can be found in plenty in Cordoba, Seville and Malaga. Hojiblanca olives are the mark of antiquity in Spain and mainly produced for collecting olive oil. Hojiblanca olive is available in various flavors in Spain including lightly peppery, fruity, bitter sweet and almonds. Hojiblanca olive oil is mainly preferred for its frying sautéing and frying facility. Not only in frying, people also like to use this olive oil in baking. This olive oil is the result of olive crush and has slight pepper taste. In the international competitions of olive oils Hojiblanca oil is constantly prevailing at the first position.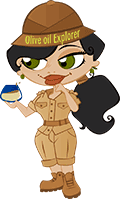 In cooking fish, vegetables and meat, Hojiblanca olive oil is given the most importance. Some brands of Hojiblanca olive oil are Oro bailen, Venta Baron, Parqueoliva Serie Oro, etc. Apart from the other olive oil classes; Hojiblanca oil is especially different for its aftertaste, smoothness and flavor. Low saturated fat and taste are two specific reasons why people randomly choose this olive oil. Hojiblanca oil is different in the extraction process and it is completely safe for heart. Natural process is maintained to produce this olive oil.
The difference between Hojiblanca olive oil and others will not be clear to you, before tasting it with bread on your breakfast plate. Its spicy and bitter taste will take different place in your mind and you will remember it distinctively. A slight mistake in cooking can be covered with olive oil as it can increase the taste of food item and make attractive. Hojiblanca olive oil can be used raw and in cooking. Frying vegetables and grilling meats will get new type of taste after using this olive oil. Though, extra amount of oil will increase the amount of calories in the food item, olive oil will create positive effect on health for its antioxidant properties.
In Spain there are 260 types of olive are being cultivated regularly. The variety of fragrance and flavor gives different experience about the diversity in the taste of Spanish people. In Spain, there are so many variations in olive oil preference that it is really difficult to figure out one specific type of olive oil for everything. Home cooks and chefs always choose their type based on their need. Different olive oil give different flavor and people, who like the flavor of Hojiblanca, select Hojiblanca olive oil. Half of the total production of olive oil in the world takes place in Spain. If you can see the use of olive oil, especially Hojiblanca olive oil, then you will have no doubt.
If any people want to taste all of the categories of olive oil in Spain that is possible, but he can never remember differently. But, some people like specific olive oil like Hojiblanca olive oil. They have their own argument supporting their taste. People like Hojiblanca olive oil as it is chilling and stable in taste as well as use. This olive oil is great for gazpachos. In international olive oil competitions, Hojiblanca oil is the most popular olive oil.