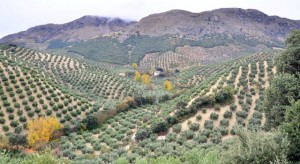 Please, pay close attention to the recent conclusions reached by the Spanish User and Consumer Organization in relation to the commercialization of different olive oils. It seems that not every single olive oil bottle labeled as Extra Virgin is really what it seems. Several olive oil trademarks have been analyzed and it has been detected that the quality levels of their olive oil products are not suitably labeled. Therefore, it is possible to find virgin olive oil considered and sold as if it was extra virgin olive oil.
The main differences between virgin olive oil and extra virgin olive oil begin in lands and basically depend on the olive fruit condition and the elaboration process in the Oil Mills, the mill used for making olive oil. If the fruits are in perfect conditions, these are washed and ground the same day of harvesting, then the oil is extracted from the fruit at a low temperature and then it is stored in tanks. Surely, the resultant oil will be of best quality, an excellent liquid with perfect taste and scent.
Contrary to this, it is only necessary a minimum loss of the quality of the fruit or during the elaboration process in order to obtain a liquid with less taste and scent that must be classified only as virgin. In addition, a great loss of quality would lead to an obligatory chemical process in order to obtain oil suitable for consumption.
The stir caused by the report of the OCU has been of great importance, not only for the affected trademarks, but also for consumers and for the oil sector in general, that has been deeply damaged in Spain and abroad. Therefore, these trademarks will take legal actions against the OCU for this report. They assure that their oil products fulfill every quality standard and they also inform that their products are backed up by the analysis of independent laboratories.
Despite this research, Spanish olive oil trademarks are considered to be the best olive oil producers in the whole world. Moreover, any other non Spanish olive oil company would produce oils of less quality than the worst liquid of any Spanish producer. The reason for this is that in Spain every olive oil company applies the most restrictive quality standards to produce the best product in the world. In fact, Spain is the number one in the international ranking of best olive oil producers.