Olive oil for salads is now very commonly used in these times. But all the olive oil is not suitable to make salads. Which is the best olive oil for salads is a very common question. Extra virgin oil is perfect to make salads. Olive oil is very reach in their quality. The most common and favorite olive oil for making salads is Rincon de la Subbetica. The producer of this oil is Spain. This oil is rich in flavor, fragrant and other vitamin ingredients which are very helpful to making salads, dipping and cooking. Mainly people of America, Italy as well as Spain use this extra virgin olive oil for salads. Melgarejo Delicatesen, Melgarejo Selection, and Castillo de Canena Reserva Familiar Picual are very popular to be put in salads.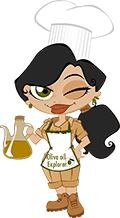 There is no hard and fast rule to use the olive oil for salads. The using amount is totally depends on the personal taste and choice. As there is no such thing like best wine or cheese, there is no olive oil that is best. People of different choice take different types as well as different amount of olive oil for salads. You can store olive oil for months if you don't open up the bottle or tin and place out it in the direct light. The flavor of the olive oil will decreas if you keep your oil opens in the air. The most mild flavor olive oil is more fragile to loss their fragrance. There are some other olive oil which can be kept for two to three years without having any serious effect on its fragrance.
I said earlier that the taste of the salads varies. So that people choose different types of olive oil for making salads.  'Aguibal Arbequina Unfiltered' (taste: Unfiltered dense and fluid oil with apple overtones), 'Aguibal Manzanilla Unfiltered' (taste: gentle, fresh, a little peppery), 'Aguibal Arbequina Unfiltered' (taste: Unfiltered for a strong full bodied taste with spicy overtones), 'Carbonell Extra Virgin' (taste: general favorite for decades – versatile middle of the road flavor) etc are mostly used olive oils for salads, foods, fried foods etc. Spain is the large producer of these olive oils
If you really want to use olive oil for salads it is better to choose the 'extra virgin oil' and 'virgin olive oil'. Both of these oils are cold pressed from olives without having any heat as well as chemicals. So these will be better for your health. Those oils are good for making salads which contains rich amount of 'monounsaturated fat', 'alpha linolenic acid' and 'phytochemicals'. Both the 'extra virgin' olive oil and ' virgin' olive oils contains these ingredients. Olive oil is also a great source of vitamin E.
Salads are mainly condumed by American people, Italian people. They normally have good health. The secret of their good health is their food habit. They not only use olive oil for salads but also making pasta, pizza or any other foods. People use olive oil for salads to bring extra taste as well as decorative purpose. Choose olive oil for salads and other foods according to your taste and be healthy!