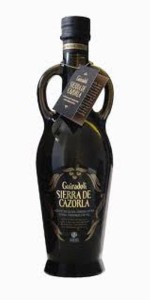 Sierra De Cazorla olive oil from Spain is very stable and fruity, with fresh aroma and flavor of the green hay and grass. It also carries a pleasant hint of the green almond. Its taste is very much suggestive of the fresh fruits like almonds, figs and apples. This extra virgin oil is a little bit bitter with mild piquancy. The Sierra De Cazorla olive oil came from the olives of Royal class are superb. For example, one of the good brands of Spanish Royal class are Castillo De Canena Royal Temprano  has its own initial sensory characteristics being sweet aroma and fresh fruitiness. The color of this extra virgin oil mainly varies from golden yellow to bright green. The color depends on when CAZORLA olives were actually harvested and location of plantation of the olives within the specific area.
Denomination of Origin or DO Sierra De Cazorla olive oil protects the extra virgin olive oil blending two categories for example Oro Bailen Reserva Familiar and Castillo De Canena Royal Temprano. The blending of two categories has given this Sierra De Cazorla olive oil a unique quality and variety among all other PDO genres.  The DO covers the areas of Spain occupied by the olive groves in southeastern part of Jaén province, which is in between Sierra del Segura and Sierra Mágina.
Some reasons are there behind the fame of this Sierra De Cazorla olive oil all over the world. In Spain the Cazorla oil extraction is mainly performed by only one single cold pressure for avoiding the components' volatility loss which actually gives the attribute aroma. This processing style of Sierra De Cazorla olive oil in Spain also helps in differentiating the extra virgin quality oil as well as achieving stability when maintaining nutritional value. It also provides dietary vitamins and antioxidants.
Sierra De Cazorla olive oil comes from olive-growing country of Sierra De Cazorla. A sum of around 31,500 hectares olive trees are planted by the farmers for producing both categories. The harvest of the extra virgin oil is actually carried out giving extra care, manually picking up only olives which are hanging on trees. The Sierra De Cazorla olive oil obtained cannot pass 1º of acidity. These olives have defined the sensory qualities, though all of these are diversifies depending on their Royal and Picual variety.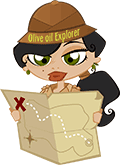 This extra virgin olive oil, Sierra De Cazorla olive oil from Spain, is greatly rich in four important vitamins which are vitamin A, D, E, and K. They carry under 0, 4% acidity and also they have high amount of natural antioxidants and monounsaturated fats. They apply a significant protective activity towards several illnesses for example myocardial infarction, arteriosclerosis, bone decalcification, diabetes and high cholesterol. The great news about this Sierra De Cazorla olive oil is that it is best fitted for using in Mediterranean diet, because an assurance of healthy properties and taste is very much essential in this diet.
Incoming search terms: