Olive oil sprayer. You can use olive oil and control calorie proportion easily: comfort, health and good taste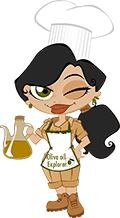 Olive oil sprayer as a new presentation option constitutes one of the recent innovations in the olive oil market. You may think this new format is just a detail with no further significance, but the fact is that it allows us to control the calories included in each recipe, not to forget its comfort and the appearance it gives to salads and other gastronomy specialties.
According to experts, using an olive oil sprayer is helpful to find out the olive oil benefits with no extra fat, sice the amount of product you use is always reduced to the minimal extent. To this respect, when some olive oil is sprayed on a frying pan or a plate base, the meals added onto them will become tasty in a really special sense, but the calorie content will not be increased.
Olive oil sprayer for dressing and frying
Indeed, light olive oil is arranged just by resorting to an olive oil sprayer. This presentation option can be directly found in stores and specialised shops. However, you can also buy the olive oil dispenser in the format you prefer and fill it with the golden liquid. Anyway, whatever you choose instead of the typical olive oil bottle, the result will entail a high quality product applied in the proper amount.
Of course, using an olive oil sprayer on your favourite meals is beneficial for your health and comfortable in your daily routine, for example to dress a salad or for grilled meals. Therefore, cooking with olive oil is both a healthy possibility and a tasty choice.
Olive oil health benefits dispensed every day
From psychological viewpoint, using an olive oil sprayer is like dispensing health every day. Under the last studies we know that olive oil, and especially extra virgin olive oil, is considered to be one of the star products included in the Meditarranean diet. In this sense, it constitutes one of the main sources of antioxidants, vitamin E and oleic acid.
Consequently, if you use an olive oil dispenser, you will be able to control the amount of fat included in your diet, taking into account it is compounded by a vegetable oil scientifically conceived as a monoinsaturated fatty acid.
Olive oil sprayer as a health counter
Definitely, the new presentation in the form of olive oil sprayer can be considered as a kind of health counter, as the controlling device will be in your hands. Nevertheless, don't give up enjoying the authentic olive oil flavour. Use an olive oil sprayer. It's your right, it's your taste pleasure.
Incoming search terms: